Dozens of candles light the stage as musicians in medieval attire play harps, flute, drums, bells and an assortment of rare medieval instruments in an evening of poetry and song.
Many of Winter Harp's concerts sell out. So book your tickets early to avoid disappointment.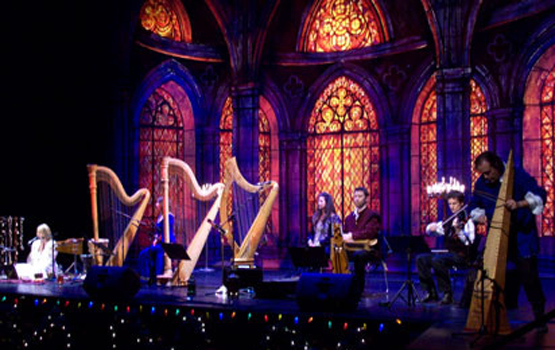 Standing ovations, sold out concerts and rave reviews are the hallmarks of Winter Harp, an ensemble of harps, medieval instruments, flute, percussion, poetry and song. Join this world-class ensemble for a concert of heartwarming carols, songs and stories in celebration of the Christmas and winter season.
The musicians, in gorgeous medieval attire, perform a hauntingly beautiful collection of music from well-known carols to Celtic and medieval carols. Dozens of candles light the stage set with breathtakingly beautiful backdrops of cathedral and snow. These illuminate the golden Celtic and classical harps and the collection of rare and intricately-carved 12th century instruments.
Don't miss this magical journey into the heart of winter, the heart of Christmas.
Winter Harp has been featured on numerous radio and television stations including CBC Radio, Bravo Television and CBC Television's prestigious Opening Night series. Rare instruments include the ethereal-sounding bass psaltery (the only one like it in the world), the 12th century organistrum (the other one like it in Canada is in the Museum of Man in Ottawa) and the nyckelharpa.
Winter Harp features Celtic harpist Janelle Nadeau, classical harpist Esther Cannon, percussionist Lauri Lyster, medieval instrumentalist Joaquin Ayala, flutist Jeff Pelletier, vocalist Caroline Markos and narrator/Celtic harpist Patrick Ball. The director is Lori Pappajohn.

Said The Province newspaper about Winter Harp:
"It's an enrapturing event that plucks at your heart strings."
CBC Radio's Jurgen Gothe said:
"Winter Harp's annual Christmas concerts are a treat."