Christmas begins here
one of the most enchanting concerts you will ever see
30th Anniversary Concert Tour
Welcome Ye All
Believe it or not -- Christmas is on its way
and we plan to take you into the heart of the season with a concert that will stir your soul. Expect tears and laughter as our music, stories and poems transport you to another land -- a land filled with snow and Christmas -- and memories of loved ones gathered together. Familiar carols and rare carols will have your heart singing. Harps, flute, violin, bass flute, medieval instruments, percussion, poetry and song.
This is Winter Harp.
For more info on our concerts click here.
Tickets for most shows are now on sale.
Click here for our tour schedule and tickets.
Come with us as we journey
deep into the Heart of Christmas
deep into the Heart of Winter
In celebration of our 30th Anniversary, we've:
* Commissioned another chapter in the Christmas musings of Oscar the Cat.
* Had the magical story The Caribou illustrated. After Oct. 1st it will be posted here.
* Are sponsoring a harp competition featuring Lori Pappajohn's beautiful modern romantic piece On Gossamer Wings. You can hear it here.
* Are being featured in a prestigious international harp magazine.
* Added yet another strange instrument to our arsenal -- where do we find these things?!! You'll just have to come to our concert to hear what a melodica sounds like -- and to catch up with the wanderings of Oscar the Cat! See you soon!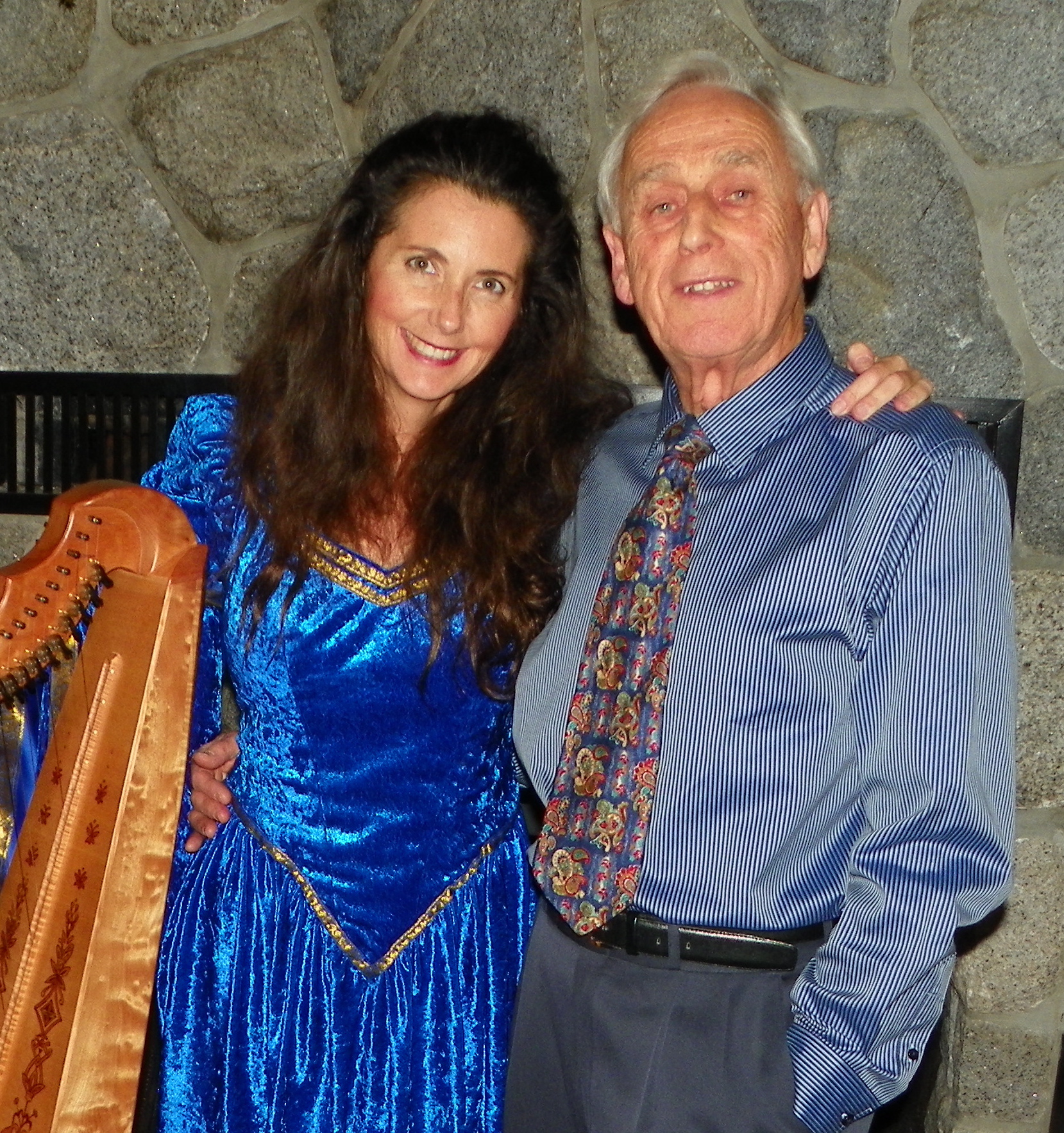 Looking Back 30 Years
Winter Harp founders Lori Pappajohn and Alan Woodland are pictured here after a concert ʻback in the good old days.' They both send their love. Alan is now 92 and going strong.

Lori and Alan started performing together in small venues in 1984 under the name A Candlelight Christmas. Lori played harp and flute while Alan read stories and poems he had written. In 1993 they got bold, rented the magnificent St. Andrew's-Wesley Church in downtown Vancouver, added a second harpist and flutist and named their group Winter Harp. Since then they've never looked back.

"It's been an amazing 30 years," says Lori who arranges the group's music and who was the group's lead singer for years. "Alan and I are so grateful to all of you who have shared this journey with us. Without you, Winter Harp would not be here. Thank you for your patronage. Thank you for helping Winter Harp be what it is today."